The team at Bohemian HR love staying active, we run, walk, talk, and spend lots of time outdoors. It's been well documented the benefits to our well-being, both physically and mentally, in staying active.
It's a natural mood lifter; It keeps you physically fit and able; It helps keep the doctor away; It can help you live longer; boosts your energy level so you can get more done; Helps you manage stress and tension; Promotes a positive attitude and outlook; Helps you fall asleep faster and sleep more soundly; Improves your self-image and self-confidence; the list goes on!
We all know 10,000 steps a day is a good target and I wanted to share a story to hopefully inspire you to get out for some fresh air and a walk today.
My neighbour and friend Mike Mason, every year ventures out to walk and raise money for BBC Children in Need. This year Mike is off again but increasing his mileage to 150 miles over 10-14 days. He is walking the London Loop (London Outer Orbital Path). Mike has started from Kingston on Friday and is tackling 10-15 miles per day.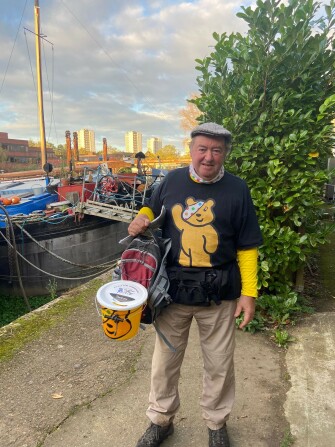 Mike, tell us a little about yourself?
I'm a 67-year-old former Royal Navy Commander who loves to walk and climb hills. Whenever my ship docked, I would set off for the nearest mountain…among them Mount Kenya, the second-highest peak in Africa; Mount Fuji, the highest in Japan and Mount Vesuvius in Italy.
What drives you to set out and walk for charity every year?
I've raised money by walking since I was about 15, by cycling coast-to-coast in Devon, and rowing across the Indian Ocean…that was on a rowing machine on the Quarter Deck of an aircraft carrier! While I shall keep walking, especially for Children-in-Need
Your pictures on Instagram each day are gorgeous, do you have a favourite part of the Thames Path?
Last year I walked 120 miles up the Thames from London to Oxford and the best stretch was through the beech woods between Pangbourne and Streetly. My favourite bit of the London LOOP so far was the path through the stately oaks of Epping Forest near Chingford today.
How can people support you on this challenge?
I have a JustGiving page (see above) and I'm carrying a bucket to collect as much loose change as I can en route.
If you would like to support Mike please feel free to share this story or please donate here. Thank you Mike for sharing your story and also for doing this amazing thing for BBC Children in Need.
Good luck!